Wildflower Season in Fredericksburg, Texas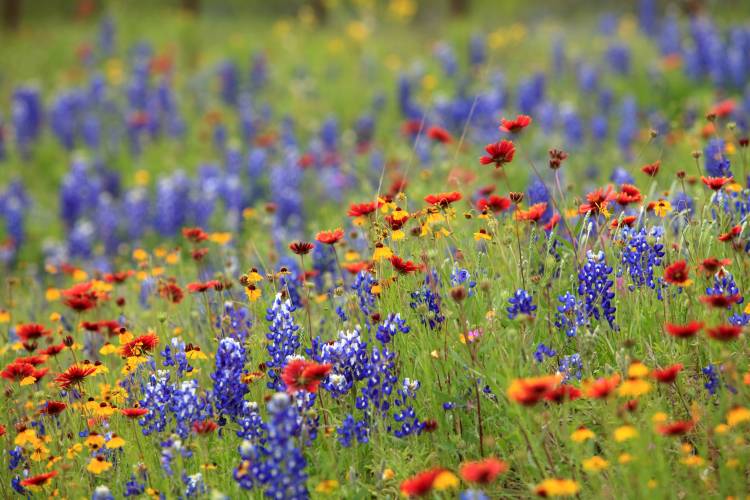 2023 Fredericksburg Wildflower Update
Spring in the Texas Hill Country means fields of wildflowers as far as the eye can see. Home to some of the most elegant displays of Mother Nature's beauty, the Texas wildflowers are something you have got to see for yourself! They are, however, also under Mother Nature's control and can be difficult to predict due to weather conditions. This year, the bluebonnets are blooming across the area. There was a lack of moisture in February and March lending to an average year of blooms. Roadside red poppies, purple tansy, and daisies can be seen from the road in nearby fields and speckled along hillsides. A friendly reminder; to keep the wildflowers great for everyone, please respect private property and do not cross fence lines. For the largest display of wildflowers in the area, try Wildseed Farms! 
Located a short drive from Main Street, Fredericksburg, Wildseed Farms has been growing wildflowers and producing seeds for over 35 years. Wildseed Farms is the nation's largest working wildflower farm with over 200 acres of wildflowers fields with walking trails woven throughout. They're open 7 days a week and are free to enter.  With the natural beauty of the Texas Hill country, and maybe some wine tasting, Instagramable moments are just waiting to happen at Wildseed Farms!
Come on down to the farm! Spring is flower season, which means you can smell the sweetly scented florals, tour the grounds, and taste Wildseed Farms' finest wines on reserve. Pick up lavish bouquets and your favorite bottle from the tasting to enjoy at your Fredericksburg vacation rental! Want to bring some wildflowers back home? Pick up seeds from the gift shop, along with local treats, gifts, and wine of course!
Where To See Texas Hill Country Wildflowers
If you're excited about seeing the wildflowers in bloom but you're not sure where to go, Fredericksburg Tours has got you covered! Their seasonal trolly tour is award-winning, showcasing local wildflowers and wildlife while allowing you to sit back, and soak it all in. Leave the guesswork to the pros, Fredericksburg Tours tailors the perfect route each year based on when and where the wildflowers are in bloom to ensure you can keep your camera clicking the entire experience. The wildflower tours are extremely popular, so be sure to book yours in advance so you can be sure to get your spot! 
Looking for a more wild approach to the seasonal beauties? Check them out up close and personal from the trailside at some of the Texas Hill Country's parks and natural areas! 
Lady Bird Johnson Park is home to an RV park, 5 acres of tent camping, and the Fredericksburg Nature Center. Nearby, the Live Oak Wilderness Trail weaves through a thriving oak savanna hillside alongside the creek making it a prime wildflower habitat to check out the clematis, Indian paintbrushes, and butterfly weeds. Located just minutes from downtown, this is a perfect place to take an evening stroll and view wildflowers.
 Lyndon B. Johnson State Park & Historic Site is just a few minutes to the east in the neighboring town of Stonewall. This park has a little over a mile of trails that lead to interpretive exhibits, historical buildings, scenic viewpoints, and other park amenities. Wander the trails exploring the colorful nature of bluebonnets, poppies, milkweed, and more! After you've walked the trails have a relaxing picnic by the riverside. 
Enchanted Rock State Natural Area is perfect for hikers and outdoor enthusiasts.  A short drive north of Fredericksburg, Enchanted Rock boasts over 10 miles of trails and is a great way to get on the ground among many of the great Texas wildflowers. Hike the Summit Trail and take in views of the Hill Country or explore the Loop Trail and see the geological magic Enchanted Rock is named for.
Stay in the Wildflowers
There's no shortage of ways to enjoy the wildflowers during your trip to Fredericksburg this spring, but the best way is a private front-row seat at one of these vacation rentals! We offer a great selection of properties outside of town, and some even have some land for you to explore, making them perfect for fulfilling your wildflower dreams. 
Hidden Rock Ranch is a pet-friendly 3 bedroom, 1.5 bath farmhouse that can sleep up to 6. This ranch is over 100 acres of nature preserve for you to explore that includes a small lake, abundant wildlife, trails winding throughout, and more! During the spring the flowers pop up and paint the property in beautiful shades of red and blue. This location is perfect for nature lovers! 
Learn more about Hidden Rock Ranch here >>
---
Songbird Haven is appropriately named for the Warblers that sing from the oak trees surrounding this home. This 1 bedroom 1 bath cabin can comfortably sleep up to 3, making it the perfect home for a romantic getaway. The walking trails with feeders are perfect for getting out and enjoying the natural beauty of this property.
Learn more about Songbird Haven here >>
---
Peaceful Retreat is a cozy 2 bedroom, 2 bath home that sleeps up to 6. It sits on some beautiful Hill Country Acreage ensuring you'll have quiet for relaxation. This property has sprawling grasslands and trees making it perfect for viewing vibrant displays of wildflowers in serenity. 
Learn more about Peaceful Retreat here >>
---
Annie's River Cottage can sleep up to 4 guests in this 2-bedroom, riverside home. Located on a bluff near the bank of the Guadalupe River, this historic home is located on a beautiful property that's fantastic for exploring. Relax on the wrap-around porch, smelling the sweet wildflowers nearby, or head down to the river, and be lulled by the birds and water. 
Learn more about Annie's River Cottage here >>
---
Browse our available properties, book your Fredericksburg vacation rental, and start planning your next trip to the Hill Country!