Historic Stays In Texas Hill Country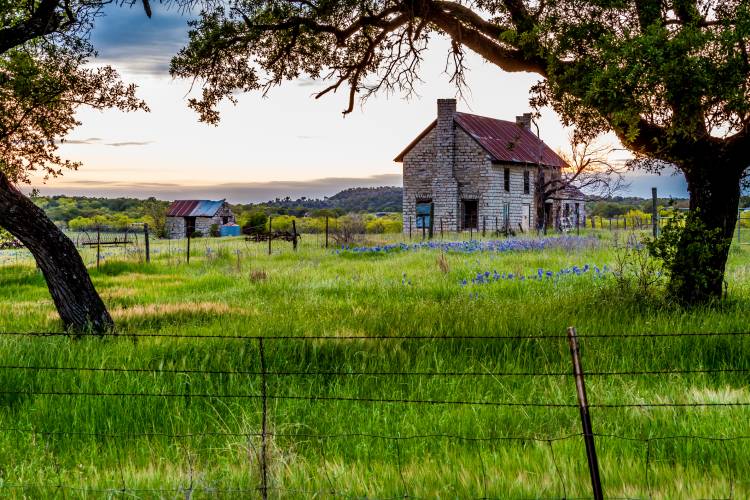 Fredericksburg has a long, rich history. There's no shortage of stories, artifacts, and museums to learn about the cultural significance of the area. From the indigenous people to German immigrants, to World War 2, there's something for every history buff and anyone who appreciates learning about the past.
Fredericksburg celebrated its 175th birthday in 2021, but the area's story starts long before modern history. Tools found in the Texas hill country put prehistoric humans here at least 15,000 years ago. When Europeans came into the area many native tribes in Texas, such as the Lipan Apache, lived nomadically following the buffalo, so there were no great cities, but they still had a large impact on those who settled there. When German colonists came into the area, the Tonkawa people were happy to work alongside them, many even became Texas Rangers. The Lipan Apache were accepting of the new settlers as they were good for trading. The Lipan Apache were also hopeful the settlers would help them against the most feared tribe, the Comanche. An attempt to negotiate a treaty between the Comanche tribe and the town went well but was not upheld for long. Republic of Texas President Mirabeau B Lamar saw raiding done by Comanches and began expelling them from Texas with significant violence resulting in large losses of life.
It was around this time that Fredericksburg was founded. On May 8th, 1846, German immigrants formally founded Fredericksburg. In the early years, the town saw fast growth. Within just a few years, there was a road to Austin in the works, the first store opened, and the Nimitz family opened their hotel. The first school was established in 1856, the first newspaper in the county came in 1877, and the railroad came in 1913.  Learn more about the early immigrants at the Pioneer Museum.
In 1908 former president Lyndon B Johnson was born in nearby Stonewall. You can visit LBJ's birthplace, the school that a young Lyndon attended, and the Johnson family cemetery where he is buried all near the Lyndon B Johnson State Park which also includes the Sauer-Beckmann Living History Farm where you can go back in time and explore the way the pioneers adapted to the land that is now the Texas hill country
In 1885 Chester W Nimitz was born. He later served as the Commander-in-Chief of Allied Forces, Pacific Ocean Area during World War II. Learn more about Admiral Nimitz at the Pacific War Museum's gallery dedicated to him and his achievements.
In 1930, 85 years after the town's founding, they were included in the federal census for the first time with a population of 2,416. Fredericksburg has now been the main manufacturing center of Gillespie County for much of the town's history. They have had a variety of industries that include several metal works, a cement plant, granite and limestone quarries, furniture, mattress, and sewing factories, a peanut oil plant, a tannery, and more.
It's no surprise history buffs love Fredericksburg for its museums and preserved traditional settlements from German pioneers. When it comes to choosing where to stay in Fredericksburg, anyone can appreciate these unique homes that are perfect blends of lived history and modern amenities.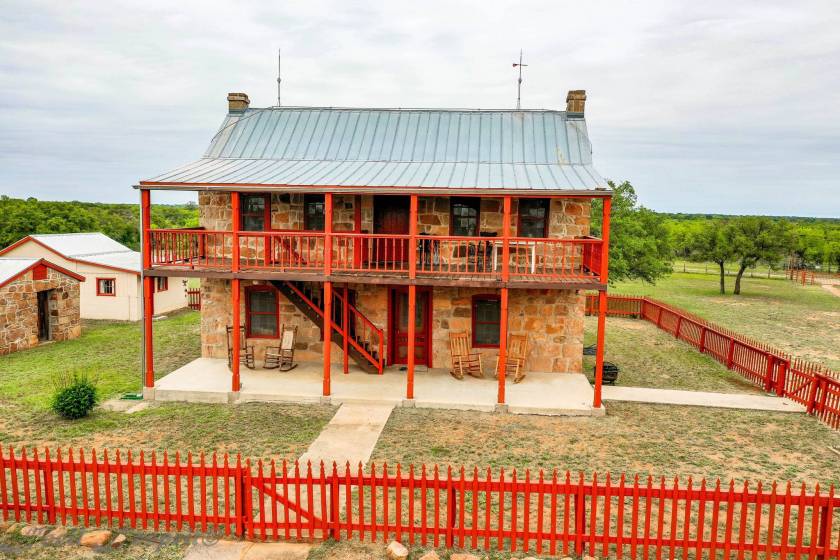 The Steinhaus Ranch is a historic German farmhouse with all of the modern amenities, including air conditioning! Built in 1897 and sitting on its original 170 acres, this restored stone house has four bedrooms, two baths, and everything you need to have a comfortable and relaxing stay. 
---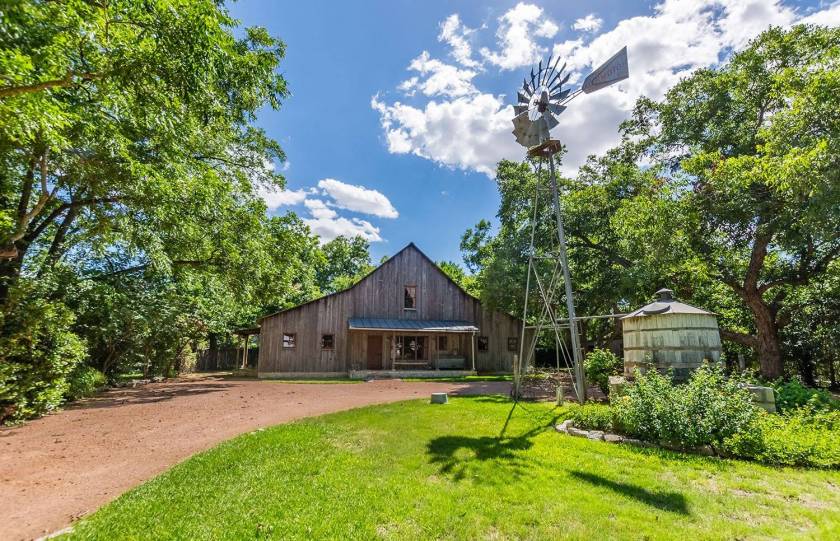 Just steps from historic downtown Fredericksburg, Ada's Peach Street Hideaway is where comfort and tranquility await you! This home has three bedrooms and three bathrooms and rustic charm that make this historic stay unique. 
Book Ada's Peach Street Hideaway >>
---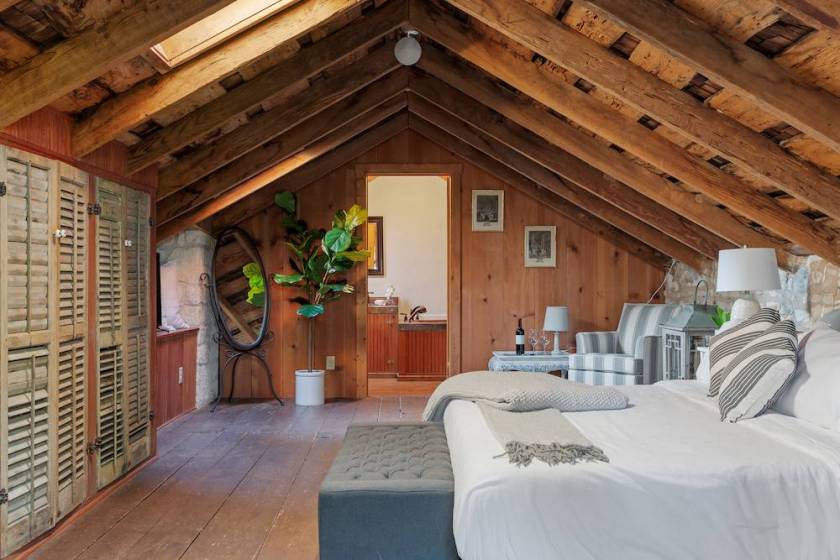 The Nimitz loft is located near the heart of historic Main Street. Built in 1855 this upstairs accommodation is part of the original home where Admiral Nimitz and his family lived. Modern features meet 19th-century charm with this stay. Amenities include air conditioning, the original copper bathtub, and a bottle of wine and complimentary tasting from Perspective Cellars found in the main house below. 
---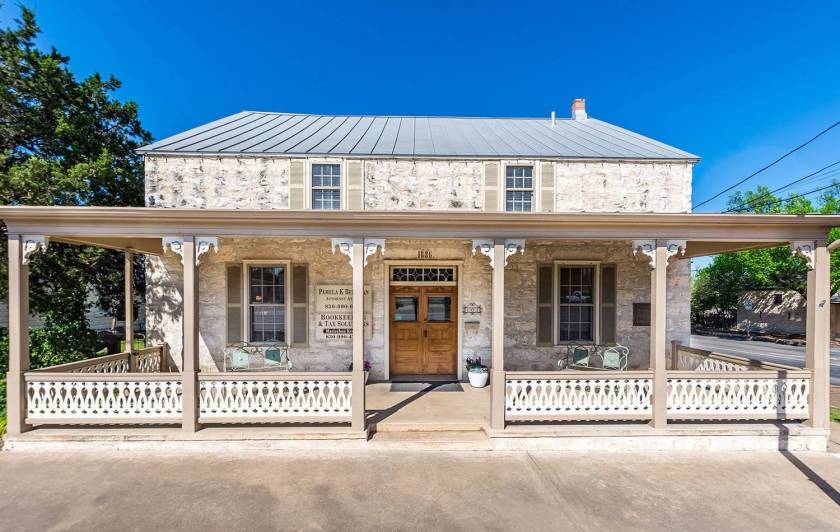 Jolly's Haus, a historic stone house was built in 1886. This Main Street cottage has two bedrooms, one bathroom, and a quaint kitchen on the second floor. Classic touches to this cozy stay make it perfect for a shopping trip or couples' getaway.  
---