Unique Stays in Fredericksburg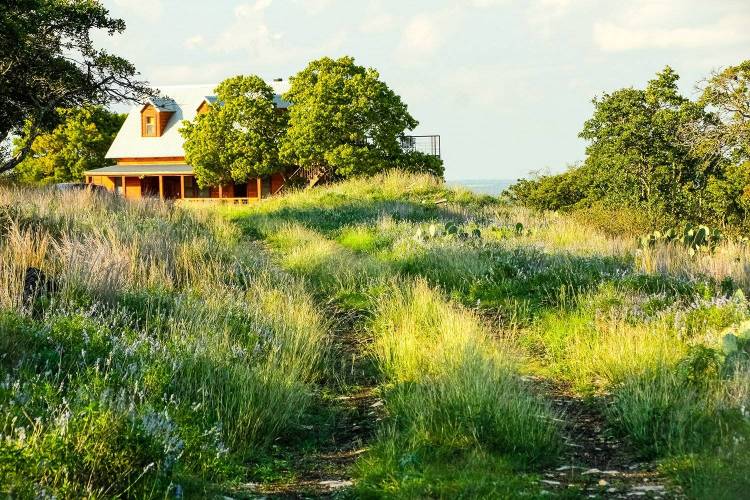 Fredericksburg's unique accommodations claim almost as much fame as The Hill Country's top attractions. 
Rich with history and culture, Fredericksburg is a popular place for many reasons. Known for its wineries, peaches, and wildflowers, and well-loved for its brick fronted Mainstreet with seemingly endless shopping and dining, Fredericksburg is a gem in the Hill Country that has it all. It's even been named the unique lodging capital of Texas.
Because we specialize in distinctive accommodations, it's one of our favorite ways to help guests personalize their dream vacation. There's nothing better than coming back to your extraordinary vacation rental after you spend a day exploring the history of the town, and seeing (and tasting!) the best Fredericksburg has to offer. From a Pullman Train Car which once housed the father of the national parks, to a wildlife preserve with stunning night sky views and river access, here are 8 unique places to stay that will make your next Fredericksburg vacation unforgettable. 
One of our most popular (and arguably the most unique) stay, the Pullman Train Car can be found just blocks from Main Street in Fredericksburg. Why is it such a guest favorite? When you stay at the Pullman Train vacation rental, you'll board an 1894 Private Palace Pullman Car that Teddy Roosevelt once rode during his travels around Texas. Original antiques furnish this unique rental's bedroom and living room spaces. You will also find modern conveniences such as a flat-screen TV, a microwave, and Wi-Fi. Guests have said "We truly felt that we were stepping back in time. Such a fun and cozy place to stay. The decor is amazing, with all the pictures and memorabilia. 
If you time your visit to Fredericksburg for mid to late summer, you'll be greeted by juicy peaches that are often ranked with those of Georgia and South Carolina. Want a front-row seat to experience peach season? The Fischer Farmhouse will give you the unique opportunity to stay on a peach farm. In addition to the orchard being close enough to smell in an afternoon breeze, this Fredericksburg accommodation has an outdoor space that will keep your group smiling. You can picnic in the shade, watch the kiddos play on the jungle gym, or cast a line into the stocked pond for some catch and release. Take a romantic sunset cruise on the pond's rowboat and end your day gathered around the fire as the stars make their appearance. There's no wrong way to relax when you stay at the Fischer Farmhouse. 
A close tie for guest favorites, our Hidden Rock Ranch vacation rental is a sanctuary for seclusionists, and stargazers. You will love the luxury retreat just miles from Fredericksburg and lightyears away from city noise. At this unique stay, guests love how they can walk on the private nature trails, swim and fish in the spring-fed lake, and view wildlife including Zebras, Black Buck Antelope, and many native species. Located in a dark sky preserve, this property has stunning stargazing that will make it hard to leave. Don't just take our word - one guest recently said "What a great escape! This cabin is comfortable and fully equipped. Plenty of room. The grounds are beautiful, and it is so much fun to watch the wildlife, the sheep, and the zebras! Stargazing is amazing from the deck. Warning: you will spend some quality family time here and not want to leave."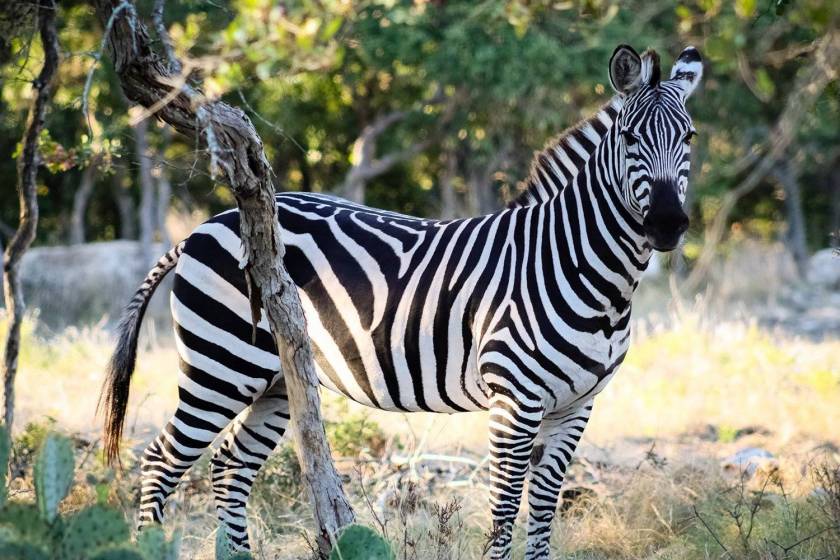 The Mighty Oak Log Cabin is surely one of the most unique places to stay in Fredericksburg. A classic log cabin with modern amenities and a divine Hill Country backdrop, this is one of the best places to relax as the sun sinks down. Watch wildlife from the porch or head out under The Mighty Oak and unwind in the hammock. The interior of this cabin is furnished in a comfortable western style, and it can sleep 4 people. Its convenient location makes this Fredericksburg cabin the perfect home-base for your explorations. 
Become one with nature when you stay at Opal's Retreat. Offering the comfort and entertainment of a standard vacation rental, this unique stay also has an amazing covered outdoor patio with a fireplace and stunning views of the Texas Hill Country. There's plenty of outdoor seating so everyone can gather around and enjoy company in the fresh air. Play a game of shuffleboard and watch a movie while you visit, or just rest up in one of the comfortable beds after a busy day exploring.
The handcrafted Cedar Bliss Cabin is as close as you can get to time traveling to the late 1800s without sacrificing modern comforts and amenities. This unique rental's secluded location offers privacy and wildlife viewing making it the perfect getaway for outdoor lovers. It's easy to explore nearby Fredericksburg, and then come back and relax in the oversized jacuzzi or unwind with a good book on the porch as a summer storm rolls through. Enjoy your next romantic retreat at the Cedar Bliss Cabin.
Binky's Secret Garden is the perfect unique accommodation for a romantic getaway. Guests will find that this home feels very secluded while it's just a few steps away from Fredericksburg's Main Street. Spend your day roaming historic buildings, boutiques, antiques, jewelry stores, bars, wineries, and restaurants. When you're done, come back and enjoy the private, manicured garden and a glass of your favorite evening drink before you head in and soak away your worries in the oversized jacuzzi tub.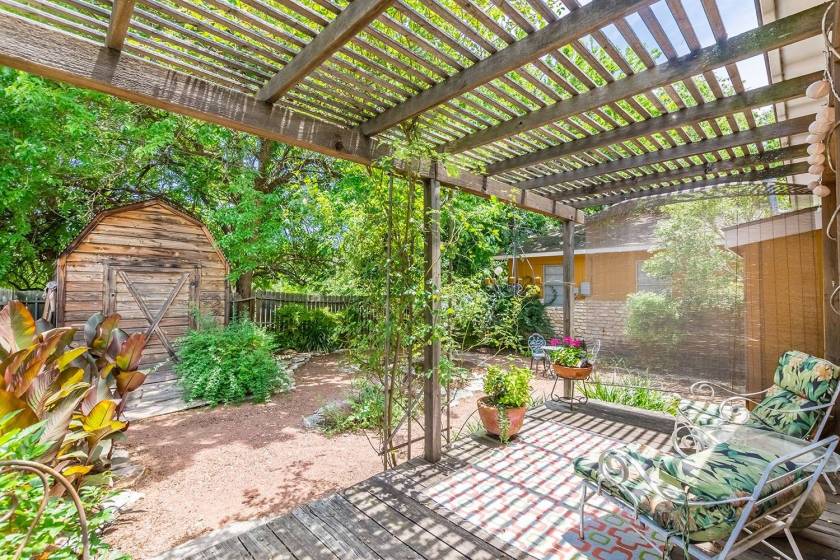 The Appian Way Cottages are unique because they offer 3 comfortably furnished vacation rentals on a secluded 40-acre property without sacrificing easy access to downtown. These cottages still boast modern amenities, including a hot tub, and stunning views from private porches. They're perfect cottages for those looking for a bit of quiet on their group vacation. The fully equipped kitchen in each home allows guests to prepare their own meals if they wish, but there are also plenty of great dining options located in nearby Fredericksburg!
Fredericksburg is a great place to experience the many wonders of the Texas Hill Country. Visitors can keep exploring when they stay at one of the many unique vacation rentals Fredericksburg Escapes offers like cabins, Sunday homes, Steinhaus's, and historic buildings.