Texas Hill Country Wine Tastings & Tours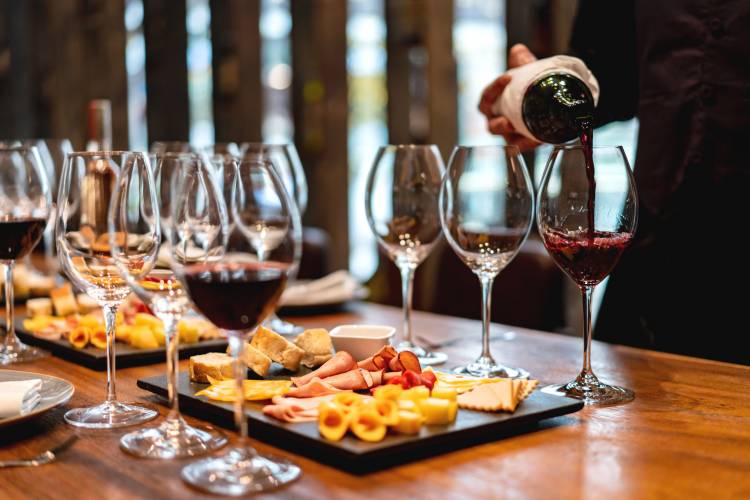 The Texas Hill Country is a wine lover's paradise and Fredericksburg is at the heart of it!
From Cabernet to Pinot Noir, the Hill Country has over 100 vineyards and wineries, so you'll never have a shortage of new wine to taste. Gillespie County is home to more than 50 wineries and vineyards and in Fredericksburg alone, there are 18. So whether it's time for a romantic getaway, a birthday retreat, or a bachelorette weekend, Fredericksburg is the perfect vacation destination for the wine lovers in your life!
It's been suggested that winemaking began in the Hill Country long before the European immigrants settled here. Around 500 years ago, the indigenous tribes of the area had a ceremonial wine made from Texas Mustang Grapes. After colonization, European wine-making techniques were popular and expanded quickly after the prohibition ended. Now, the Texas Hill Country is the second most visited wine region in the U.S. and is still growing! After experiments and hybrids, the winemakers have found that certain grapes are naturally better suited to the Texas climate and soil. The Hill Country wine industry is now boasting awards and honors around the world and just like a fine wine, it just keeps getting better with age.
If you're ready to get to Fredericksburg and start sippin', you might be asking yourself "When should I go?". Luckily, wine tastings can take place during any time of the year at most vineyards and wineries. In the spring you have the wildflowers in bloom to enjoy. During October you have Texas Wine Month where over 45 Hill Country winemakers offer special tastings, menus, and other special events. There's really no bad time to visit Fredericksburg for a wine tasting getaway, but for outdoor tastings and tours, consider the local weather.
Local Favorite Vineyards & Wineries 
Once you've nailed down the "when", it's time to start planning the "where" and transportation. Within an hour of Fredericksburg are nearly 50 wineries and vineyards so it can be daunting to narrow it down. Here are a few of our favorites to get you started!
We've also compiled a directory for you to use in creating your wine tasting itinerary you can view here.
Wine Tasting Tours
When it comes time to go wine tasting, make sure to confirm who your designated driver is or book a shuttle with one of Fredericksburg's many fun guide services so everyone can enjoy. From casual and laid back to classy and luxurious, there's a shuttle for every group and occasion! 
One of the most popular options is the hop-on, hop-off 290 wine shuttle. This tour goes to more than 15 tasting rooms in the area. Offering multiple shuttles per hour, you and your group can easily try a variety of locations in just one day! 
---
For a lively tour on a pink shuttle or limo, Brooke's Bubble Bus is perfect for bachelorette parties, birthday bashes, and groups looking to have fun! This service is offering three tastings, lunch for purchase, and a goody bag full of souvenirs. 
---
Looking for a luxurious wine tasting experience? Absolute Charmed Tours is sure to impress! Offering both classic and private tastings, you'll visit three of the top vineyards and wineries in Fredericksburg in style.
---
Try Fredericksburg Tours for unique guided tours from a climate-controlled trolly. You and your group can enjoy lunch and tastings at three great local vineyards and wineries.  
---
Feeling Inspired (and thirsty)? Book your lodging in Fredericksburg and get to planning your Texas Hill Country wine tasting getaway! 
Browse our available vacation rentals here.